Shabby chic interiors evoke a warm, comfy, casual feeling.  It is an extremely popular trend in home decorating, weddings, crafting and more.  Some of the characteristics of Shabby Chic are layering on the texture such as wicker, linen, cotton, and burlap.  Don't be afraid to mix furnishings in different finishes, colors and styles, or from different eras.  Introduce painted, stained and distressed woods, as well as metals and iron.  Vintage fixtures, hardware and accessories married with white or pastel-painted cabinets are the essence of today's shabby chic style.
Another characteristic of Shabby Chic is well worn furniture with beautiful patinas.  For a truly unique piece, create your own patina by removing some of the paint on furniture with steel wool.  Use a piece of furniture differently than that it was originally made for.  What a great way to reuse, re purpose and up-cycle!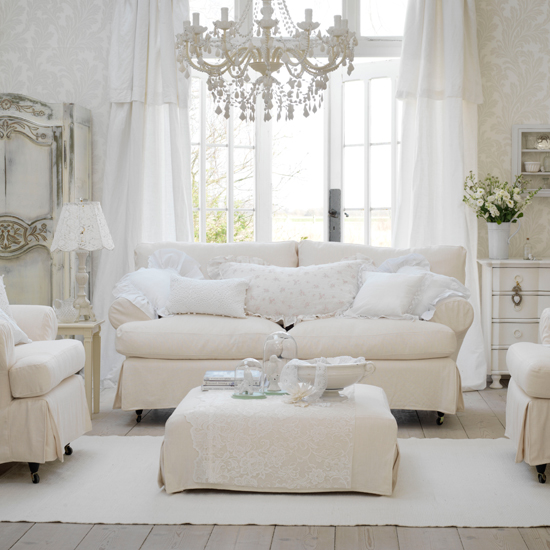 Need more ideas for Shabby Chic?  Add lots of fun, feminine touches like ruffles, ribbon, florals.  DrapeStyle has dozens of fabrics that could be used for the Shabby Chic trend!  Check out the Shabby Chic page for more ideas.  Any of our fabrics can be used to make Custom Drapes, Roman Shades and Pillows.
All of our fabrics can be viewed online and ordering samples is quick and easy.  We'll even give you your first $10 in samples free. Simply use coupon code "SAMPLES" at checkout.  We'll have your fabric samples to you within a few days and when you're ready to order, we're here to answer any questions you may have.  DrapeStyle has been in business since 2002, and we pride ourselves on our excellent customer service.  And you do too!  Thanks to great customers like you, our feedback and reviews are excellent.  We have been awarded the Best of Houzz in customer service three years in a row.  So if you need a little help with measuring, fabric advice, or even if you would like to place your order over the phone, we're here to help.