IKAT (pronounced ee-kot) continues to be one of the hottest trends in home and fashion today.  Ikat comes to us from places like Indonesia, India, and central Asia.
Ikat is defined as "a method of weaving that uses a resist dyeing process similar to tie-dye on either the warp or weft fibers. The dye is applied prior to the threads being woven to create the final fabric pattern or design.
What does this really mean?  You can easily add a bit of this fun, global style to your home without breaking the bank!
Some easy ways to incorporate Ikat into your home are:  
Pillows
Throw pillows are an inexpensive way to add a pop of color and the latest Ikat trend.  Available in a variety of prints, DrapeStyle has several options for custom made pillows.  Don't be afraid to mix and match patterns within the same hue.
Wall Art
Another inexpensive way to add style and color to a room.  Ikat wall art is available almost anywhere.  You could even make your own art by purchasing a bold Ikat fabric and "frame it" over canvas stretcher bars you can purchase at any craft store.
Home Decor
A tray, vase, rug, footstool or pouff; items like these throughout the room can really add a punch of color and carry through the Ikat theme.
Drapes or Roman Shades
This is where DrapeStyle can be a tremendous help.  We have several Ikat patterns available for custom drapes in any style you choose.  Ikat patterns also look great made up in a Roman Shade and pillows.  At DrapeStyle, little details like matching up patterns, weighted bottoms, blind stitching, and 3 1/2″ returns, have made DrapeStyle one of the largest suppliers to home owners and designers throughout the US and Canada.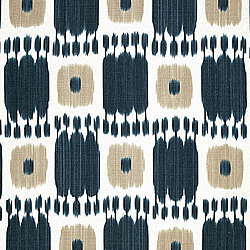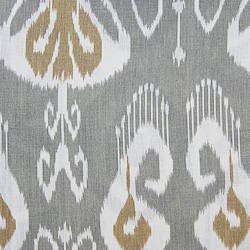 So whether your decor is traditional, rustic or eclectic, Ikat patterns can be incorporated into your room's decor.  DrapeStyle has many Ikat fabrics to choose from.  We carry designers such as Robert Allen, Kravet, Schumacher and Trina Turk, and we would be happy to send you samples of any of our fabrics.  Once you have received your samples, feel free to contact one of our designers that can help you design your dream drapes.  At DrapeStyle, we have been making custom window treatments for over a decade.  We love our customers and it shows!  DrapeStyle has been awarded Best of Houzz in customer service for three years in a row.  Pair that with our talented team of seamstresses, who have on average, 25 years of experience, and you have a winning team!  As always, your drapes will be hand made right here in the USA.  Please join us in the DrapeStyle experience-you will be pleased.